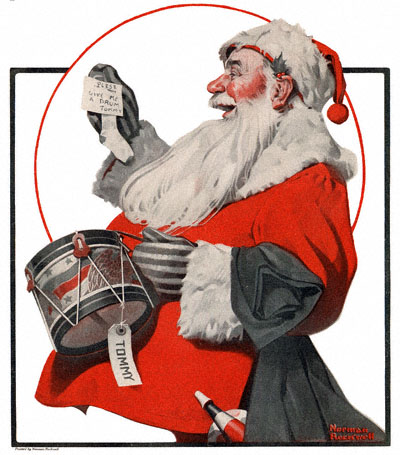 He's making a list, he's checking it twice, he's gonna find out who's naughty or nice.
Santa Claus. Does he visit your home each December 25? Do you leave out milk & cookies, place the packages under the tree after the children are asleep, or let out a few "Ho Ho Hos" while stomping out the door?
We have chosen to tell our children the truth about Santa Claus as soon as they understand the difference between real and pretend. I never believed in Santa; Hubby did. He remembers the huge blow the day he found out that Santa was not real. He felt like his parents had lied to him for years. He was so disappointed and embarrassed that he had believed for so long.
At my house, I knew that my parents were the ones who bought and wrapped all the gifts. They were placed under the tree with tags that read
From Mom and Dad.
We weren't threatened to behave for fear that Santa might skip over our house. My dad didn't dress up in a red suit and I never caught Mommy kissing Santa Claus. But we did still enjoy the fun of it all. We
pretended
that we believed in Santa. We left out milk and cookies every Christmas Eve. When the plate was empty in the morning, my brother and I exclaimed, "You ate them, Dad!" To which he replied a sarcastic "No I didn't!" We were teased that we needed to get in bed so Santa could come, even though all the gifts were already under the tree. I felt like I had the best of both worlds, all the fun without the deceit.
Therefore, Hubby and I have chosen the same route for our children. We told them the truth but still pretend like we think they believe. And I wouldn't have it any other way. What are your Christmas traditions? I promise I won't judge you if you have chosen to go the exact opposite direction!