A guy I graduated with was just elected as mayor of our city. That makes me feel really old! Mayors are supposed to be old guys with thinning hair. I still feel like a kid. If someone asked me what my first order of business as mayor would be, I would probably reply, "Uh.....I dunno!"
----------
I have lost my slippers. I have three different pair and I've lost the right slipper of each set. How could that be any more annoying? It's slipper weather now and I'm unprepared.
----------
I get frustrated when I find a new blog I love and there's no "Follow" button to click. I only read blogs I can subscribe to through Blogger; I don't want to use multiple readers. So, what do you do when there's no Follow button?
----------
I got a new shelf that I will use for my grocery stockpile! It's ridiculous how excited this chick can get over stockpiled groceries! Toilet paper and brownie mixes are my biggest hoard thus far.
----------
My ex-boyfriend friended me through Facebook. I haven't seen him in fifteen years. He still looks really good. Darn it.
----------
Confession: I immediately changed my profile pic after I discovered the friend request. The former picture was taken at the marathon and I did not look hot. Plus, you could see my flabby tummy. I put up a much more flattering picture instead.
----------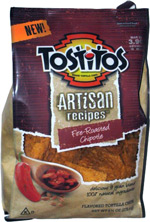 Fire-roasted Chipotle Tostitos are really good. I mean, like addicting good.
----------
I'm actually dreading starting my Christmas shopping. That's odd for me...I usually really enjoy it. It just seems overwhelming this year. Hopefully I can bust out a lot of it online. Do you subscribe to the whole Black Friday hype?
----------
Did I tell you that Son #2's
iPod
has been FOUND! It's a Christmas miracle! He owned it for a total of a week and a half before he lost it for two months. His brother found it in their bookshelf, sandwiched between two books. He ran downstairs and hugged me! That's how important finding the lost iPod was to our family!