Linda
said it must have been a man who coined the phrase
Lazy, Hazy Days of Summer.
That made me laugh! My summer has been anything but!
First of all, we planted our very first garden! I've planted tomatoes before but never an entire (small) garden. I needed to move my tomatoes to a sunnier location anyway so decided to just make a full-blown garden. My other grandma lives across the street and she's a natural green thumb. So with her supervision, we started gardening full force.

A "Before" shot - Hubby was kind enough to dig the entire
garden by hand. (The smile is sarcastic.)
I planted about 20 tomato plants of two different varieties. I started them all by seed! What in the world I'm going to do with all those tomatoes is beyond me! I don't can so it looks like I may be travelling the neighborhood with the little red wagon delivering plump, red tomatoes to everyone I see! My Grandma planted cucumbers, hot peppers, lettuce, and broccoli. She also taught me how to plant strawberries.
After
Then, I got the bright idea to clean out the basement. I was serious this time! Over the years, I've cleaned the basement many times. It's a yucky, nasty basement but I've always made it bearable. That included stuffing things on shelves and scooting boxes full of junk to the corners of the room. Son #2 has his Lego Land down there. I've always felt guilty that he has to play in those horrid conditions. Lately, my basement has looked like it almost fit into an episode of
Hoarders
!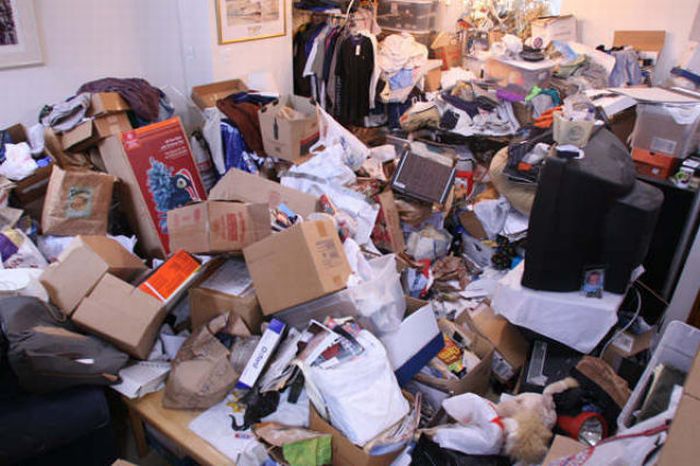 OK, it didn't look
this
bad, but you get this idea. I thought of taking some before & after pictures, but I wasn't sure you all would still love me if you saw what it really looked like.
I decided that the boys and I would tackle it together. They weren't as gung-ho as I. Then I remembered that Son #1 had basketball camp all week. I couldn't let this go another week. If I didn't jump in while I was inspired, I wouldn't ever do it. Basketball camp started at 1:00 so the boys and I worked each day from after breakfast until lunchtime. We filled the side of our house with so many bags of trash; I can't imagine what the neighbors thought.
I vacuumed up cobwebs, scrubbed walls, swept, and organized like no one's business! I am so happy to say it's a place I don't mind walking through now. Laundry is going to be less of a horrid chore now. In the meantime, the rest of the house is hit. I now have to clean up from the results of my cleaning project...which is another one of the many ways that life isn't fair. Right?
What crazy things has your "Lazy" Summer included so far?