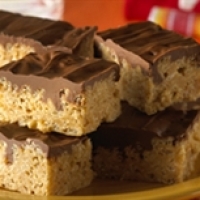 These delicious little squares are such a weakness for me! I haven't made them in so long because I always want to eat the entire pan myself. I don't know what it is, but this combination of ingredients is just sinful. I don't even like butterscotch, but mixed with chocolate, it totally hits the spot.
For New Year's Day, we make a bunch of party food and gather at my mom's house. They guys watch football and the girls play board games. Every year, I make Puppy Chow. It's become a tradition. I used to make a double batch, but my brother and I would gorge on it and make ourselves physically sick. That's also what I do with Scotcharoos. (I made both for this year's New Year's party.)
If you have never tasted these, I strongly suggest that you give them a try. Just cut up half the pan and give them away before you allow yourself to taste them. That way, you won't be able to eat the whole recipe yourself. (I will post my Puppy Chow recipe another day.)
Scotcharoos
1 C Karo syrup
1 C sugar
1 C peanut butter
5 C Rice Krispies
1 C semi-sweet chocolate chips
1 C butterscotch chips
Mix Karo syrup and sugar in a saucepan. Stir over low heat until it becomes clear and starts to boil. Remove from heat. Stir in peanut butter. Pour mixture over Rice Krispies. Stir until well combined. Spread into a 9x13" pan and cool. Meanwhile, melt chocolate and butterscotch chips. Stir until smooth and spread over Rice Krispie mixture. Cut when hard.
* Tip: You should microwave chocolate in 30-second intervals to reduce the risk of scorching. Stir every 30 seconds.
* I don't care to refrigerate the Scotcharoos because they are very difficult to cut. I think they are best at room temperature.