Very few people could probably say that they made money in Las Vegas
without
gambling. We did.
We are not gamblers but signed up for the gambling cards at a couple different casinos. They gave us discounts on food or other perks. One of the casinos gave us each a $5.00 credit for gambling. I would have just let them go to waste but Hubby wouldn't hear of it. He put his card into a slot machine and lost the five bucks in a matter of minutes. Then he inserted my card. On the first pull, it made $4.00. So he cashed out and walked away with a hefty prize.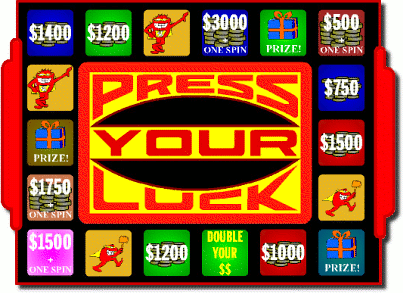 Outside Planet Hollywood, there was a free
Press Your Luck
game station. Do you remember that game show? "No Whammies! No Whammies!" We played twice. Hubby got one Whammy and a $20 dining voucher for Planet Hollywood. I won a free drink and a ride on the Eiffel Tower. I was excited about the ride, but that quickly faded. It was only for one person. So we got the clever idea to sell it. We met a nice family from Mississippi in the Paris hotel. We sold them the voucher for $10, which saved them $5.50. Then we walked to P.F. Chang's and found some people waiting in line. We sold the food voucher for $10 also. I just gave away the free drink coupon. It was late the last night, we had just eaten, and were leaving early in the morning. So we didn't want anything to eat or drink.
Also in Vegas, we participated in one of those time share demonstrations. We knew it would be long, but really started regretting that decision about two hours into the presentation. They tried to make you feel guilty that you didn't want to spend time with your family on vacation.
Do you not love your spouse and kids???
The annoying thing was that a speaker spoke about certain points. Then, a video went over the same exact points. Then, our representative went over those same points a third time. If they would have cut out all the repetition, the presentation would have only lasted an hour.
The funny thing was that the original purchase price was cut by 60-70% by the end of the presentation. The only way I was able to end the conversation was by telling them that my grandma owned two time shares with the same company that she couldn't get rid of. She's offered them to me for free and I turned her down. The man shook my hand, stood up, and walked away. I wish I had thought of that an hour sooner!
But as we were enjoying dinner the next two nights for free, we were thankful for the time we spent in the horrible sales pitch. My steak was mmmm-oh-so-good!
So, all in all, we made $100 from the time share pitch, $20 from
Press Your Luck
, and $4 in the casino. We walked away $124 richer...all without gambling! Pretty good odds, if you ask me!